Franks Apartments Four
"Had my 28th Birthday celebrations here with friends and family 12 people. Lucky for me it was a sunny Bank Holiday and we were able to make the most of the terrace, bbq stand and jacuzzi! We all had an amazing time the property is modern , clean, spacious and even more beautiful in person. The house manager and the rest of the staff were really friendly. Great communication"
Book Direct & Save
Save 5% by booking direct
The best price guaranteed
What is the minimum night stay?
There is a 3-night minimum stay on this property
Are same-sex groups/ stag & hen parties allowed?
Due to the luxurious nature of this property, unfortunately we do not allow same-sex groups, stag & hen parties or events of that nature. We may have other properties that better match your requirements. Please call us on 01253 272 552.
How many guests can stay?
Seaview House can accommodate up to 16 guests
How do i check current availability?
Live availability is displayed on a calendar above this section.
Click here
to check it out.
Will I get the best price by booking direct?
Yes! When you book on our website or by phone, you will get the best price guaranteed. We will automatically discount your entire stay by 5%. You will also avoid paying any service fees which are charged when booking via sites such as Airbnb & booking.com.
Can I get a refund if I cancel?
If you book direct our cancellation policy is as follows:
Full refund for cancellations made within 48 hours of booking, if the check-in date is at least 30 days away.

50% refund for cancellations made at least 14 days before check-in.

No refunds for cancellations made within 14 days of check-in.
If you don't book direct & book via any other booking site or agent such as booking.com or Airbnb, their own cancellation policies will apply. Any cancellation & refund will be out of out control and will be handed by the booking provider.
Are kids allowed, if so what is the cost?
Sure! Blackpool wouldn't be the same without them… Our pricing works on a 'per guest' basis. Children & adults are charged the same price. Infants under the age of 12-months are free.
Please note: We do not provide cots, high chairs or any other such amenities. These will have to be provided by yourself. We may be able to supply items you are unable to bring at an additional cost. Please contact us before you book.
We consider dogs part of the family… So yes! They are more than welcome to join you during your stay.
What are the check-in / check-out times?
Our Check-in times are from:16:00 – 18:00 on the day of arrival. Check-out is at 11:00 on your departure day.
When booking direct – A £250.00 deposit is required to secure your booking. This is shown as the 'upfront payment' and will be deducted from you remaining balance which is due 14 day before arrival. We will automatically charge your card for the remaining balance approx 14 days prior to your arrival.
Damage Deposit – We will also hold a £500.00 damage deposit which will be returned to you upon checkout (Subject to no damages)
Reviews
Dungraften house
Thank you for an amazing stay! The house is absolutely beautiful. We had a family get together and was loved by all.
The welcome hamper on arrival was a lovely touch.
What a fabulous place!
I fell in love with this house when I spotted it on the website but actually booked somewhere else instead. Then I kept thinking of here and how fantastic it would be to stay! So I cancelled my first booking and placed a booking here instead. So glad I did. The team were in touch right away to confirm then again in time for our visit to confirm all details. We were met at the property and shown around … it's just such an amazing space! We stayed for a week whilst visiting all Blackpool had to offer but we couldn't wait to get back home each day to play pool, enjoy the hot tub or just chill in the most stunning surroundings. We were met again on our last day to check out and Janine could not have made us feel more welcome. We will definitely be back and would not hesitate to recommend this place!
Stunning house with plenty of space!
Everything you need for an amazing stay is provided. In a great location with convenience stores and takeaways in walking distance. Blackpool front is about a 20 min walk. The host was very friendly and great communication, arrived to give us a warm welcome and talk us through everything we needed to know. And came back for check out to ensure we had had a lovely stay. Would highly recommend.
Would definitely recommend!
We had the best stay in Blackpool. The house had everything we needed and more! From a large beautiful hot tub to a gym and even a pool table. Very spacious and well decorated, making our stay just perfect. The Blackpool pier and tower are only a 20mins walk. Would definitely recommend!
AMAZING!!!
We had the most fabulous break in this amazing home! So comfy and lovely. The kitchen had everything you need, the bar and pool table were great fun and the large hot tub was just brilliant! We didn't want to go home! Thank you for a fabulous break!
Submit a review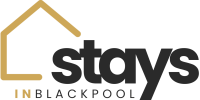 Stays In Blackpool offers unique, luxury serviced accommodation in Blackpool