Sea View House
Book Direct & Save
Save 5% by booking direct
Reviews
100 star
In the first sight the beautiful modern and spotless clean house catch our eyes.
Everything was great 100 stars from us. Beautiful house with lots of space for our family of 7 and a wee dog and a thoughtful organization for all the single requirements during our stay, everything was perfect and we couldn't ask for anything more⭐️
The house is in a great location easy access to local grocery shop(2 min walk) and easy walk access to the bars and restaurants.
The communication with the owner from the first second to the end was amazing from where the keys were, the lock codes and any questions during our stay.
Seaview house
Lovely house perfect for a large family.
Beautiful Stay!
We booked Seaview for a Hen of 15 people travelling up from Reading. From the moment we arrived we felt welcomed and comfortable. There is everything you need in the house and amenities locally – Co-Op down the end of Warley Road (4 min walk), extra parking also on Warley Road, Tram/Bus stops near to the house, and lovely sea views! We chose Seaview due to the fact that there was a room on the same level as the courtyard garden, living room, dining room, and kitchen so this was perfect for my 81 year old grandmother. The little balconies on Level 1 were perfect as you get the sunset (the balcony entrance window from the bedroom is broken so we weren't able to use that one but the one on the landing was just as nice). Everyone had a lovely stay, thank you.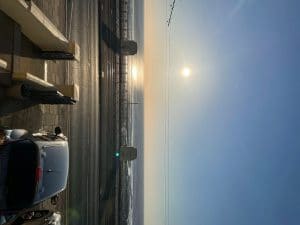 Beautiful Stay
We booked Seaview for a Hen party of 15 people. From the moment we arrived we felt welcomed. The house was perfect and had everything we needed. We were potentially going to book separate hotel rooms for this event but we are so glad we didn't! Each room was perfect and we loved how there was a room on the same floor as the kitchen etc as that benefitted the 81 year old guest. We had amazing weather, the views were incredible and everything was close by. As we had 4 cars and only 2 cars can fit on the drive we put the others down Warley road which is just round the corner – no restrictions over the weekend. There is a co-op down the end of Warley Road which was convenient and then Central and South Pier is a short tram ride away. I would definitely stay again!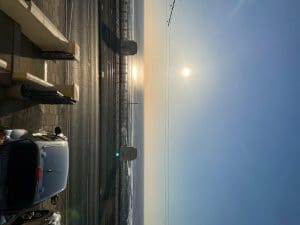 Great family break in Blackpool
Great accommodation, 15 family members, plenty of space, lots of bedrooms and ensuites, spotlessly clean, great support from initial contact (Janine?). Will most likely return later in the year.
Submit a review
What is the minimum night stay?
There is a 2-night minimum stay on this property
How many guests can stay?
Seaview House can accommodate up to 16 guests
How do i check current availability?
Live availability is displayed on a calendar above this section.
Click here
to check it out.
Will I get the best price by booking direct?
Yes! When you book on our website or by phone, you will get the best price guaranteed. We will automatically discount your entire stay by 5%. You will also avoid paying any service fees which are charged when booking via sites such as Airbnb & booking.com.
Can I get a refund if I cancel?
If you book direct our cancellation policy is as follows:
Full refund for cancellations made within 48 hours of booking, if the check-in date is at least 30 days away.

50% refund for cancellations made at least 14 days before check-in.

No refunds for cancellations made within 14 days of check-in.
If you don't book direct & book via any other booking site or agent such as booking.com or Airbnb, their own cancellation policies will apply. Any cancellation & refund will be out of out control and will be handed by the booking provider.
Are kids allowed, if so what is the cost?
Sure! Blackpool wouldn't be the same without them… Our pricing works on a 'per guest' basis. Children & adults are charged the same price. Infants under the age of 12-months are free.
Please note: We do not provide cots, high chairs or any other such amenities. These will have to be provided by yourself. We may be able to supply items you are unable to bring at an additional cost. Please contact us before you book.
We consider dogs part of the family… So yes! They are more than welcome to join you during your stay.
How close are Blackpool's attractions?
The property is located directly on Blackpool's north promenade. When leaving the front door you're immediately on the seafront where the majority of Blackpool's world famous attractions are located.
You are no more than a 15-min walk along the promenade to the main tourist area where you can find Blackpool Tower, Sea Life & piers. Continuing further you will find attractions such as Coral Island, Sandcastle Water Park & Blackpool Pleasure Beach… All located along the Blackpool Seafront.
Save your energy by hopping on & off one of Blackpool's trams. You have a tram stop 2-min walk away from this property which will take you to any attraction along the Promenade.
What are the check-in / check-out times?
Our Check-in times are from:16:00 – 18:00 on the day of arrival. Check-out is at 11:00 on your departure day.
When booking direct – A £250.00 deposit is required to secure your booking. This is shown as the 'upfront payment' and will be deducted from you remaining balance which is due 14 day before arrival. We will automatically charge your card for the remaining balance approx 14 days prior to your arrival.
Damage Deposit – We will also hold a £250.00 damage deposit which will be returned to you upon checkout (Subject to no damages)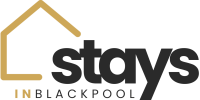 Stays In Blackpool offers unique, luxury serviced accommodation in Blackpool